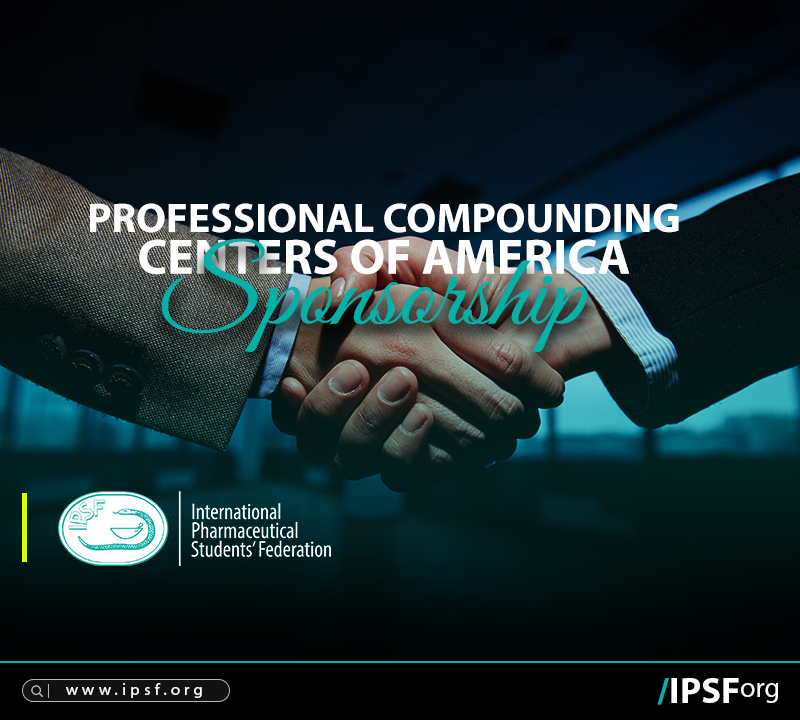 Press Release: Professional Compounding Centers of America (PCCA) sponsorship.
22.12.2018
The International Pharmaceutical Students' Federation (IPSF) would like to acknowledge and thank our well-established Compounding Event (CE) partner, the Professional Compounding Centers of America (PCCA).
IPSF CE was established in 2013 in The Netherlands and, since then, the CEs have been held at IPSF Regional Symposia (AfPS, APPS, PARS) and at the IPSF World Congress. The first CEs were held in 2016 during AfPS(Kenya), in 2017 during APPS (Bangkok) and in 2018 during PARS (Peru).
IPSF CE was created to highlight the importance of pharmaceutical compounding in current therapeutics and the need for up-to-date compounding skills within the pharmacy profession. As we move towards personalised medicine inhealth care, compounding has become an increasingly valued practice and the IPSF CE wants to be a key player in compounding education worldwide. The objectives are to:
Raise awareness about the importance of compounding within the pharmacy profession and quality/security measures regarding the compounded medicines
Provide students with an opportunity to develop their knowledge in designing and preparing compounded medicines
Educate students to recognize which patients may have the need for individualised pharmaceutical preparations
Provide students with an opportunity to practice their compounding skills in an environment conducive to learning.
The CE currently has two levels of difficulty ‐ beginner and advanced.
PCCA is an international company based in the USA which integrates the complete resource for compounding pharmaciesby providing innovative, high-quality products and equipment, up-to-date education and full clinical support. The company's members are nearly 4,000 distributed in the United States, Canada, Australia and other countries around the world. Incorporated in 1981 by a network of pharmacists who recognized the need to help patients requiring personalisedmedications, PCCA celebrated 35 years of supporting pharmacy compounding in 2016. Learn more at pccarx.com.
IPSF has been partnering with PCCA since 2016 and PCCA has been sponsoring IPSF CE by providing financial and technical support. IPSF has built on this collaboration to bring pharmacy students from around the world the chance to organise their own CEs. The PCCA partnership supports the annual Development Fund Compounding Event grants and the organisation of CE at IPSF regional symposia (AfPS, APPS, EMPS, PARS) and at the IPSF World Congress.
For further information, please contact the IPSF CE Coordinator at [email protected]