IPSF FIP STUDENTS' AND YOUNG GRADUATES' PACKAGE 2019
New Horizons for Pharmacy - Navigating winds of Change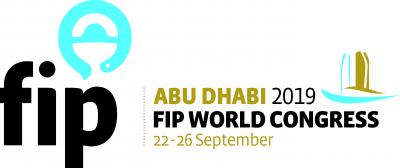 Congress Theme: New Horizons for Pharmacy - Navigating winds of Change
Venue: ADNEC – Abu Dhabi National Exhibition Centre
Congress Official Website: https://abudhabi2019.congress.pharmacy
Event Dates: 22 – 26 September 2019
Location: Abu Dhabi, United Arab Emirates
The 79th FIP World Congress of Pharmacy and Pharmaceutical Sciencessciences, Abu Dhabi, United Arab Emirates. invites pharmacy practitioners and pharmaceutical scientists from around the world to come together to consider ways of extending the role of pharmacists so that they play a full part in ensuring patients' safety, and health systems strengthening, and to achieve full benefit from the medicines people take.  
 
The students & Young Graduates' Package offers students and recent graduates, IPSF members, not only access to the full educational contents and sessions of the FIP World Congress, but additionally includes accommodation, breakfasts and social events with other 100 pharmacy students from all over the world.
REGISTRATION:
DATES:  15th April - 15th June 2019
FEE: 605€ (300€ Congress Fees + 305€ Students' Package additional Fees)
This fee includes:
Admission to all sessions
Opening ceremony
Welcome reception
Access to the exhibition and the poster session
Coffee/tea breaks
Lunch (from Monday 23 to Thursday 26 September)
Access to all submitted abstracts and biographies as of 1 September 2019
Congress bag with final congress programme
Access to the Congress app including the list of participants (name and country)
Access to a website where you can download the presentation slides of the speakers who gave permission (available as of 1 November 2019).  
Accommodation for 5 nights at Premier Inn Abu Dhabi Capital Centre Hotel (Breakfast Included)
3 Social Nights
Registeration Form: Registration form Link
Upcoming events
23 - 30 Jun 2019

It is the annual symposium of the International Pharmaceutical Students' Federation (IPSF) for students in the Americas and beyond!

6 - 13 Jul 2019

The 18th Asia Pacific Pharmaceutical Symposium (APPS) 2019, will take place in Bandung, Indonesia from 6th to 13th July 2019 under the theme Forever 18th.

10 - 14 Jul 2019

The event will be hosted by the Polish Pharmaceutical Students' Association. The Reception Committee is a team of 13 people who are dedicated to doing their best to ensure EuRS is a success and an unforgettable event!

The venue will be the Didactic Centre of Medical University of Warsaw, which is close to the hotel your you will be staying in , the city centre and one of the biggest parks called Pole Mokotowskie known as the perfect place to chill.