The 64th IPSF World Congress
After this long journey, the 64th IPSF World Congress is finally here. AEFRA is thrilled to bring you the newest edition of this amazing IPSF event that every pharmacy and pharmaceutical student around the world is waiting for.
     This year, you will live an unforgettable experience of pharmacy through the motto: "From Lab to Counter: The Different Pharmacists' Profiles and Their Constant Contribution to Global Health." We will show you how pharmacists around the world develop different strategies in order to contribute to global health through their different jobs and positions. Pharmacology, public health, compounding, and pharmaceutical sciences in combination with beautiful landscapes and delicious wines in the Land of Great Sun – come to Argentina and take part in our dream that has become reality. Let's live an amazing experience with our pharmaceutical family from all around the world! This is our dream, will it be yours too?
Registrations period and fee

1st phase - 20th of January to 31st of March - 450€
2nd phase - until 15th of May - 500€
3rd phase - until 30th of June - 550€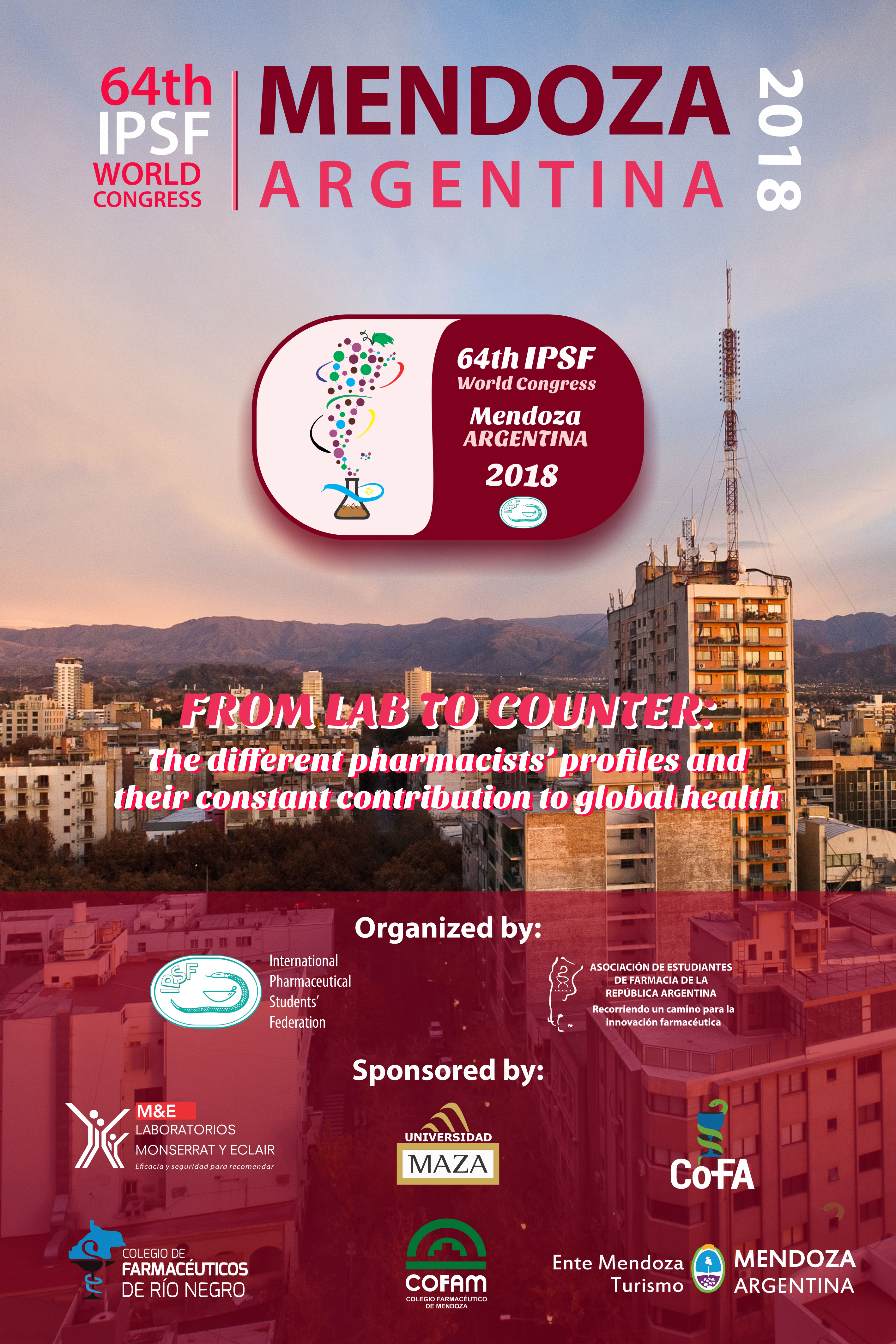 To know more what to expect, watch the video here.
If you are interested to get more information about the Congress, please be free to contact congress@ipsf.org
Organizer

Upcoming events
6 - 13 Jul 2019

The 18th Asia Pacific Pharmaceutical Symposium (APPS) 2019, will take place in Bandung, Indonesia from 6th to 13th July 2019 under the theme Forever 18th.

10 - 14 Jul 2019

The event will be hosted by the Polish Pharmaceutical Students' Association. The Reception Committee is a team of 13 people who are dedicated to doing their best to ensure EuRS is a success and an unforgettable event!

The venue will be the Didactic Centre of Medical University of Warsaw, which is close to the hotel your you will be staying in , the city centre and one of the biggest parks called Pole Mokotowskie known as the perfect place to chill.

30 Jul - 8 Aug 2019

The 65th IPSF World Congress 2019 will be held in a vibrant city of Kigali, Rwanda, hosted by Rwanda Pharmaceutical Student's Association (RPSA) from 30th July until 8th August 2019. The Congress will gather more than 600 pharmacy students and recent graduates from 90 countries worldwide. The main theme of the conference Striving towards Health for All: Exploring Innovations in Pharmacy and Pharmaceutical Sciences will tackle one of the main global health agenda by stressing role of pharmacists in achieving Universal Health Coverage.